---
I normally dont react on this kind of issues but after reading about Nicki Minaj's ex Meek Mill comments on her *skin color & body* I decided to use my voice and I am not a particularly fan of Nicki Minaj but I am so sick and tired of seeing black skinned girls getting insulted because of the color of their skin or the way they want to look like. Especially when it's a black person using these terms aginst their own women. I dont know you Meek Mill shame on you for insulting a women like that!
 On of the most asked questions I get daily is about my skin tone, what products I use, how I keep it like it's etc… Often from black girls that seem to be very uncomfortable to asked those questions. Why should it be such awkward question?
What is wrong with black women making their skin lighter? As long they feel beautiful, happy and dont die or get sick of it?! Why should it be a dirty or complexe thing? Why shouldn't it be as beautiful as when a white girl getting brown skin with spay tone or artificial bronzing. There is healt risks that too right?!
My white girlfriends have all right to get browner skin tone, to get spray tone, to feel more beautiful in the way they want to in a skin tone that aren't their natural tone. And this is also socially accepted because they are white girls? and this is considered to be beautiful, modern etc and their own right to do so. COME ON!
A black girl would never dare to admit that she makes her skin tone lighter because it makes her good bad and feel complexed in her own skin. Getting a lighter skin does not mean that you are not thankful and grateful of being black?! Grateful is the word I always use because I don't like mentioning the term "proud" when it come to my origins. I don't need to lift myself up to be accepted so grateful is the right term. I never heard white people say "I am proud to be white" so why would I say that?.
Nicki Minaj is a beautiful black woman regardless of darker or lighter skin tone. She is still a black person and does not seem to want to change that. If she feels more beautiful with a lighter skin color, fake hair, surgery and whatever, what is the problem with that as long she is happy!? Or you don't have any other way to put her down but criticizing her skin tone or the way she look like?! How can you insult and disrespect a woman like that? Seriouly you need to learn how to be a real!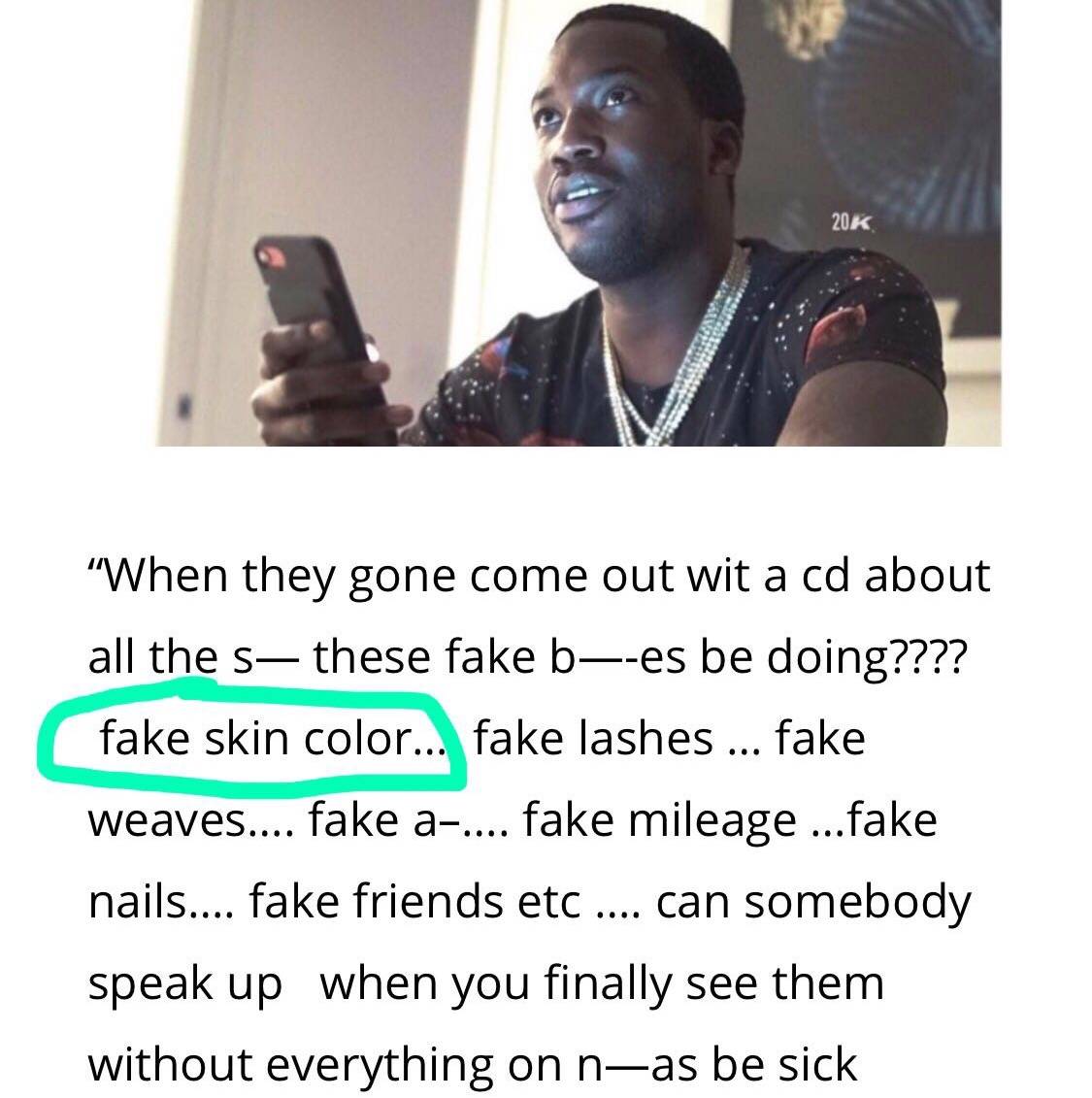 You, as a black guy, just insulted all black women by saying that they are doing something wrong and discusting when lighten up their skin tone just like other race does. And they never get criticized for it!
I really never use to react on this kind of issuses but I cant be quiet anymore, it has to come quick because this is a very huge issue that all black women deal with daily.
Lighting up your skin tone simply means that a girl a woman finding her own way to feel more beautiful in the exact same way as when her white girlfriends does when they get spray tone or artifial bronzing.
When could we see being black as something positive? If we don't make changes and change our mentality and our way to see things then our future generations will suffer of the same shit as we are and it will last forever. People don't even see
Beyoncé
or
Rihanna
as black women anymore, just very successful women. When is media going to show the world that there are beautiful & successful women in all races?I am sick and tired of hearing that I am not a black woman because black girls normally don't like certain things the way I do?
I am sick and tired of insisting about my origins because they don't want to accept that I am completely black.
I am sick and tired of the hatred and negativity towards the way women look.
I am sick and tired of defending my identity or body because some people don't accept that I can naturally look like this without surgery. You have to be mix from different races, but you are not black black… Too beautiful to be black??? Too beautiful to be African???
Sick of all of these terms.
Yes! I wear fake hair because I feel good wearing it and this has nothing to do with me not liking, or are shamed of, my own natural hair… If one day I feel the need of getting plastics surgery I do it because it makes ME feel happy. If one day I feel the need to get my skin tone lighter I will do it because it makes ME happy and nobody, not even a black dude, can make me feel ashamed about that.Some people from other races make us black people feel complex for who we are and we use it against each other to confirm that they are right. This needs to stop! Black people need to wake up and learn how to lift up each other. I don't want my future kids to feel shame or been complexed in their own skin which I am sure they wont because I personally never accepted to feel that way but how many people are as strong as I feel am?!
Being darker skinned should not mean being less beautiful nor accepted. Most important thing is that you feel comfortable in your own skin & body and make the best of it in order to feel good.The sickest thing is that even the mix-race girls get accused for getting lighter skin tone when they already are half white because other people find this a way to put them down.
Our skin get even darker when the sun comes up and lighter when its winter time as every human being. GET OVER IT!
When it comes to any women from all races feel the needn to get surgery let them do it and dont be jugementale again its just women finding her way to feel more beautiful and good with themselvs. If black women want to lighten up their skin tone, it's just a woman trying to feel good & beautiful in the way they want to… It's nothing ugly or dirty about that! Every women should do whatEVER makes them happy and beautiful as long they don't get sick or die from it.
I pray to the day women get respected and well treated!
We need changes! Women need changes! Black people need changes!
To all women out there, STAY STRONGLY BEAUTIFUL ALWAYS!
God Bless YOU All! <3
Fashion Designer / Stylist / Model / Blogger
Founder & Owner of Minza.se & Barryan.com
Comments
comments
Kadije Barry